Airfoil FANS are available in the following sizes, wheel designs, and air & pressure ranges.
| | | |
| --- | --- | --- |
| Sizes | Wheel Designs | Air Volume & Static Pressures |
| 245-1200 | BI – Backward Inclined Blades | To 186,000 CFM & 16″ W.G. |
| 365-1200 | AF – Airfoil Blades | To 188,000 CFM & 16″ W.G. |
| 1320-2175 | BC – Backward Curved Blades | To 710,000 CFM & 16″ W.G. |
Aerodynamic features include non-overloading horsepower characteristics and high efficiency.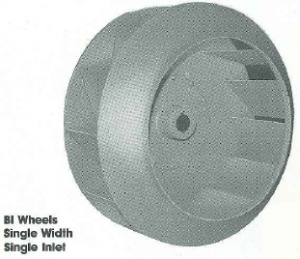 AF wheels, including blades, wheel flange and backplate, are also made of high-strength steels as standard. Blades are die-formed and welded to the spun wheel flange and backplate.haft.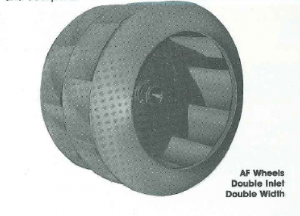 BC wheels are made of die-formed, high-strength steel blades, die-formed steel flange and steel backplate as standard. Blades are welded to wheel flange and backplate.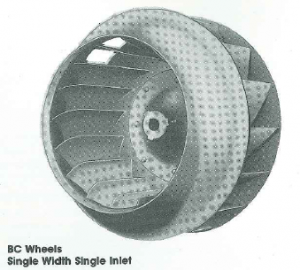 Bl and AF double-width, double inlet wheels utilize a common centerplate wheel design. BC double-width, double-inlet fans utilize two BC wheels.
All Airfoil fan wheels are offered with cast iron hubs. Hubs are designed with a high hub-to-wheel ratio which adds to the overall structural integrity of the wheel. Hubs are straight bored to a close tolerance fit to the shaft. Wheel/hub assemblies are keyed and set screwed to lock the wheel to the fan shaft.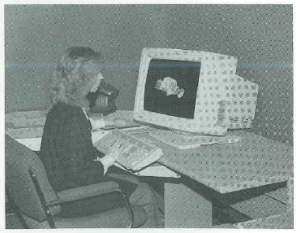 State-of-the-art CAD tools are used to design and detail the entire fan line. Multi-light source shading of a 3-D model is shown.
CONSTRUCTION & DESIGN OPTIONS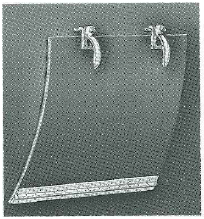 Inspection and Access Doors are gasketed, hinged and shaped to conform with the fan scroll contour. Handled fasteners are used to secure the closed door. All hardware remains on the fan when open. Raised doors to facilitate application of exter¬nal insulation are also available.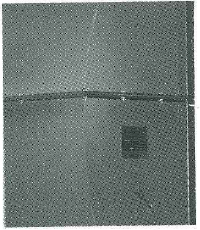 Split Housings are fitted with bolted companion surfaces along the horizontal centerline as standard. Other horizontal, vertical and pie-shaped splits are avail¬able. Splits are used for access to fan interior, to meet restricted openings or because of shipping dimensional constraints.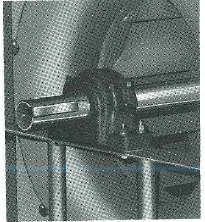 Shaft Seals are constructed of a non-ferrous material with close tolerance to shaft diameter. Attached to the fan housing the shaft seals limit air leakage around the shaft.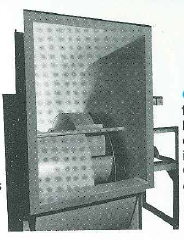 Outlet Connections. Slip connection is standard on Class 1 & 2. Flanged connection is standard on Class 3. Flanged connection is also available as an option for Class 1 & 2. Drilling of flange is available.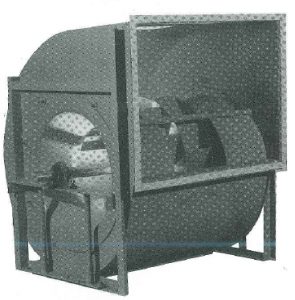 Drain Connections are half pipe couplings with or without a flange welded to the fan scroll at its lowest point.
Inlet Connections can be furnished with a square or round, slip or flanged connection. Drilling of flange is available.
Channel Base. All fan arrangements can be furnished with a sub-base. Bases are made of structural steel and can be provided with or without vibration isolators. Inertia bases that can be filled with concrete after installation are also available.
Heat Slinger. Split aluminum shaft cooler mounted on fan shaft between housing and inboard bearing dissipates conducted heat. Required for 450°F temperature operation. 80,000 Hr. L-10 life bearing and heat slinger required for 600°F temperature operation.
VOLUME CONTROL: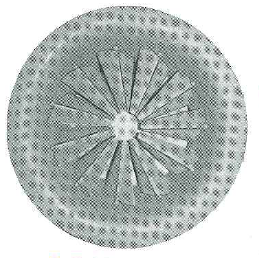 Variable Inlet Vanes are available as an option for all classes of fans. Refer to page 3 for typical Variable Inlet Vane performance information.
Outlet Dampers are available with opposed and paralel blades. Dampers are designed to match fan outlet velocity, pressures and temperature and have flange connections. Fans require a flanged outlet if damper is to be mounted on unit.
OSHA GUARDING: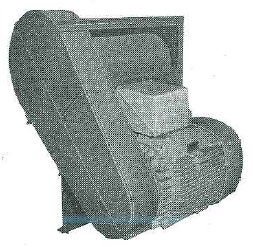 Belt Guards and Shaft Guards are standard per OSHA requirements. Constructed of mill galvanized steel, belt guards are solid or perforated metal sides with openings for tachometer readings. Shaft guards are perforated metal. Shaft guards are used for heat slinger guarding. When a shaft guard is used in conjunction with a belt guard, the entire rotating assembly is guarded.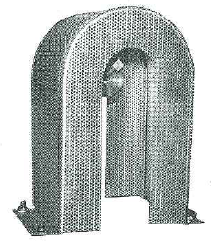 Coupling guards are furnished to OSHA standards. Constructed of mill galvanized steel, the coup¬ling guard bolts in place.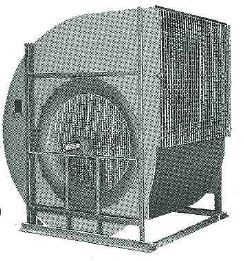 Inlet and Outlet Screens of galvanized steel are furnished per OSHA requirements.
Weather Covers are furnished to OSHA standards of mill galvanized steel on arrangement 10 fans. Covers motor, drive, fan shaft and bearing.
SPARK RESISTANT CONSTRUCTION
Spark resistant construction, in accordance with AMCA standards, is available as an option on Airfoil fan single inlet arrangements 1,4,8,9 & 10 only. Bearings are not placed in air or gas stream. User shall ground all fan parts. AMCA Type "B" or "C" conform to requirments of NBFU pamphlet 91 for fans handling flammable vapors.
TYPE "A": All parts in contact with air or gas handled are of non-ferrous material… aluminum wheel, housing with inlet cone and monel shaft. All other parts are standard steel.
TYPE "B": Aluminum wheel and a non-ferrous ring around the opening through which shaft passes. All other parts are standard steel.
TYPE "C": Non-ferrous inlet cone or non-ferrous ring on steel inlet cone and around the opening through which shaft passes. All other parts are standard steel.
Offered for fans handling explosive mixtures, the type of construction depends upon the degree of spark protection desired. Non-sparking construction Everdur is also available.
CORROSION RESISTANT CONSTRUCTION
Depending upon conditions, Canada Blower can furnish fans with special coatings, galvanizing, rub¬ber coverings or special metal construction. Fans with special coatings can be furnished per paint manufacturers recommended surface preparations, such as continuous welding, rounding of sharp edges, sand blasting, etc. as required. Your Canada Blower Sales Engineer can offer technical advice along with recommendations for corrosion resistant applications.
OTHER AVAILABLE OPTIONS
Bolted Construction
Companion Flanges
Dual Shaft Extensions
Inlet Boxes
Special Bearings
Special Nameplates
Low Leakage Shaft Seals
Weep Holes in AirFoil Blades
Consult your Canada Blower Sales Engineer for above options.
ARRANGEMENTS
SINGLE INLET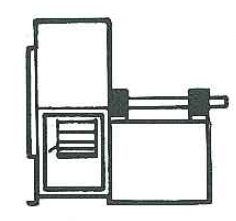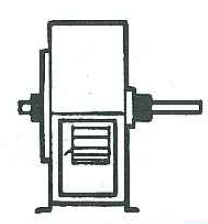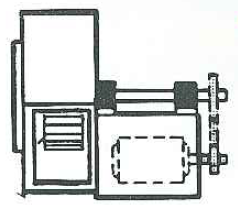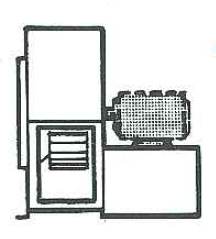 ARR. 4 SWSI For direct drive. Impeller overhung on prime mover shaft. No bearings on fan. Prime mover base mounted or Integrally directly connected.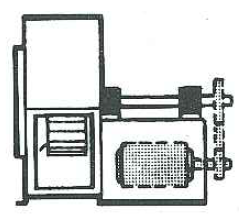 ARR. 9 SWSI For belt drive. Impeller overhung, two bearings, with prime mover outside base.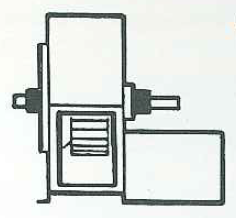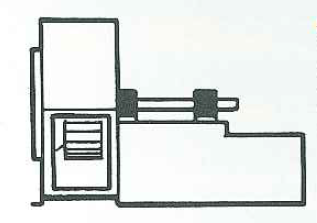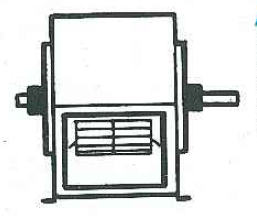 ARR. 3 DWDI For belt drive or direct connection. One bearing on each side and supported by fan housing.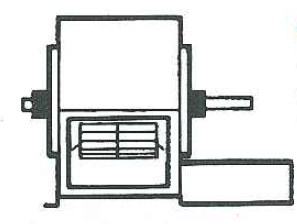 ARR. 7 DWDI For belt drive or direct connection. Arrangement 3 plus base for prime mover.
DIRECTION OF ROTATION & DISCHARGE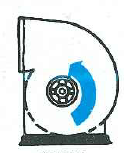 CCW-TH CCW90 Counter-Clockwise Top Horizontal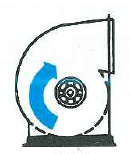 CW-TH CW 90 Clockwise Top Horizontal


CW-BH CW 270 Clockwise Bottom Horizontal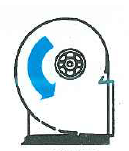 CCW-BH CCW 270 Counter-Clockwise Bottom Horizontal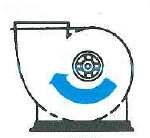 CW-UB CW 360 Clockwise Up Blast


CCW-UB CCW 360 Counter-Clockwise Up Blast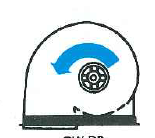 CW-DB CCW180 Counter-Clockwise Down Blast

CW-D6 CW 180 Clockwise Down Blast


CCW-TAD CCW 135 Counter-Clockwise Top Angular Down


CW-TAD CW 135 Clockwise Top Angular Down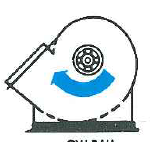 CW-BAU CW 315 Clockwise Bottom Angular Up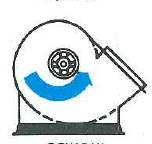 CCW-BAU CCW 315 Counter-Clockwise Bottom Angular Up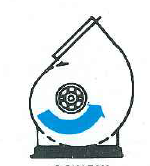 CCW-TAU CCW 45 Counter-Clockwise Top Angular Up